BACKWEIRD is a hearty anthology of largly single page comix stories created by T. wEieR between 1994 and 1996. There is also a handful of SOMEDAZE cartoons as well. 36 digest-sized quid of poached thoughts and placid inktrails. Shorts Comics Anthology: "[T. wEieR] demonstrates his ability to find humor in anything. Amoebas, gastric juices, headstones, and even a rock...read this when you're in a mellowy mood and when you're finished, you'll be in a "marshmallowy" mood." Send $3.00 to:

T. wEieR

P.O. Box 2412

Merrifield, VA 22116
SAMPLE PAGE: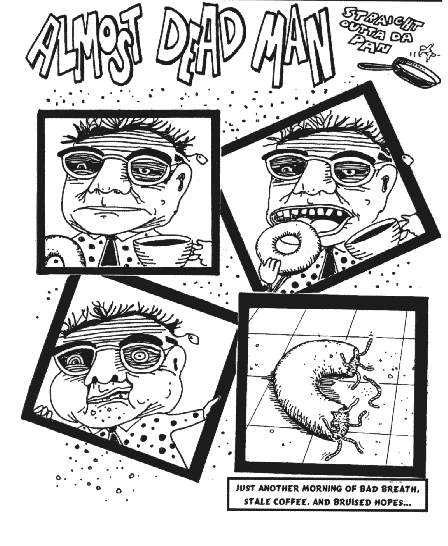 Home | Salamander Bits | Somedaze | News | Greeting Cards | Email
Paperbacks | Dada, etc. | How to Link to Us | Sundry Items | Groovy Links
No part of this web site may be reproduced (except for editorial review)
without the written permission of T. wEieR. Copyright 1999 T. wEieR.